Pink Wine Production is a serious business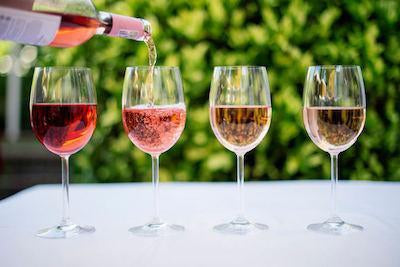 The South African Rosé wine industry is now producing some world class wines. Rosé Rocks!' launched in 2015, is South Africa's first dedicated rosé wine competition which aims to recognise excellence in rosé winemaking and promote the SA Rosé category.
Whilst Provence in France is seen as the traditional birthplace of Rosé, the famous dry, pale pink wines of this region continue to grow in popularity in wine markets around the world. In France, sales of Rosé now outstrip White wine!
Rosé wine isn't from a specific grape or region, it's a genre of wine, like red or white. The biggest producers by volume are France, Spain and Italy but many excellent examples are made in South Africa. Most Rosé wines are made from blends of multiple grapes, including our very own South African grape- Pinotage!
Rosé is one of the fastest growing wine categories in South Africa. According to local industry body Sawis, local sales of rosé wine trebled between 2007 and 2014. This is similar to international trends, where rosé wine sales are growing at least 10 times faster than the growth of overall table wine sales in the US. While rosé has stereotypically been perceived as a feminine choice, much of the growth in US rosé sales is being attributed to men, according to a 2016 Forbes.com article – so much so that the term brosé (referring to rosé that men supposedly like) has emerged and started trending on social media.
So, 3 key facts you need to know...
There's no shame in drinking pink wine!
The longer the grape skins are left during the fermentation process, the darker the colour of the Rosé. The intensity of colour can also be influenced by the grape variety used to make the Rosé.
The newest vintage is the freshest wine. No storage required- drink now! Most of the first wines released in any vintage are made in the Rosé style.
Feel free to leave your comments on what you think of Rosé wines and do have a look at the African Market Place's expertly selected & growing range of Rockin' South African Rosé Wines. https://africanmarketplace.sg/collections/rose
Combining some of the flavour of red wine, with the crisp fruitiness of a white, our selection of rosé wines offer you the best of both worlds. Not only is it the perfect beach wine, the perfect BBQ wine, and the perfect picnic wine, but it's also the perfect sitting-around-middle-of-the-week-watching-TV wine.
Drink Pink!
Leave a comment